Radical-Mediated Organocatalysis
Organocatalysts consisting of organic compounds without metal elements are receiving much attention as next generation catalysts in the hope of reducing environmental burden and coping with exhaustion/rising prices of rare metals. However, it is difficult for an organocatalyst to control radical reactions involving a single electron with high reactivity. Thus, reaction processes mediated by organocatalysts are rather limited. This hinders the development and application of organic synthesis by the use of organocatalysts. We have designed new organocatalysis that controls radical reactions, which significantly widens the applicability to various substrates. The study is expected to accelerate drug discovery, since it enables synthesis of organic compounds with high added value that used to be nearly impossible to attain. From an academic viewpoint, the study has established design guidelines of organocatalysts that can control radical reactions.
We reported NHC-catalyzed decarboxylative radical cross-coupling between aldehydes and aliphatic carboxylic acid derived-redox active esters. The reaction involves SET from the enolate form of the Breslow intermediate derived from an aldehyde and NHC in the presence of a base to the redox active ester, followed by radical–radical coupling between the resultant Breslow intermediate-derived radical and alkyl radical. Thus, the enolate form of the Breslow intermediate can serve as a single electron donor and an acyl radical source.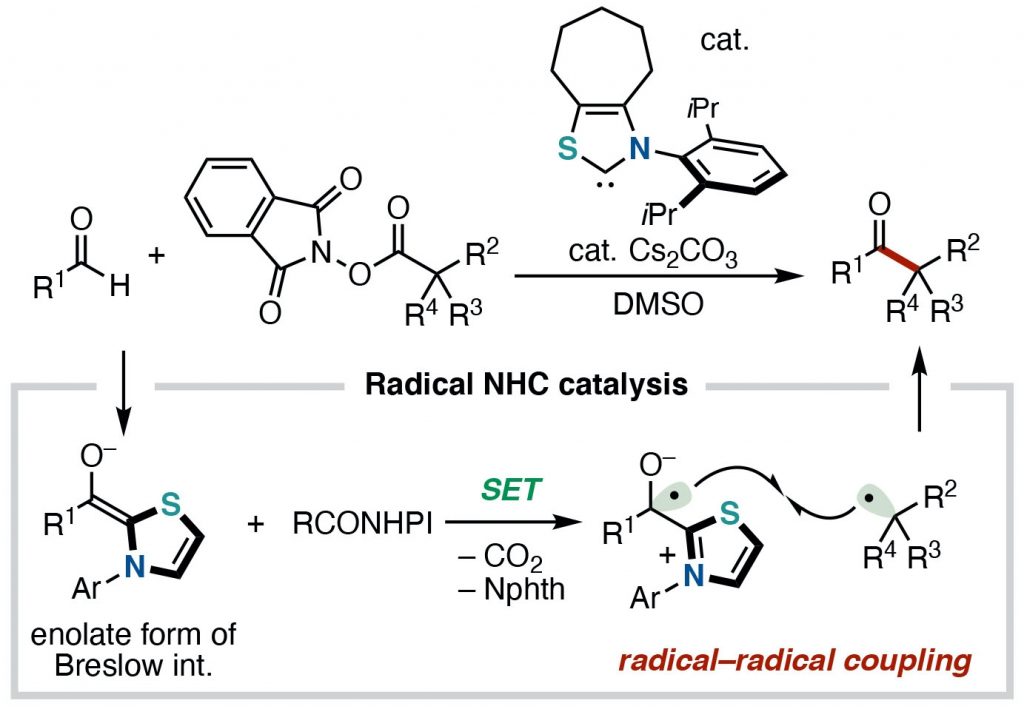 We reported the organophotoredox-catalyzed decarboxylative cross-coupling of aliphatic carboxylic acid-derived redox active esters and aliphatic alcohols. The reaction involves a SET from the excited state of the phenothiazine (PTH) catalyst to a redox active ester, resulting in the formation of a PTH radical cation and an alkyl radical, which is liberated from the redox active ester. The resultant carbon centered-radical is oxidized by the PTH radical cation to the corresponding carbocation intermediate, which couples with various heteroatom nucleophiles.